Dear Readers of OJHMS,
It is our distinct honor to present to you the 2018 issue of the Orthopaedic Journal at Harvard Medical School (OJHMS). This year's edition is highlighted by its dedication to Dr. Augustus White. Dr. White served as the chair of BIDMC Orthopaedics from 1978 – 1991, pioneered biomechanics in spine surgery, and is a leader in fostering culturally competent and responsible care. Accordingly, this year's journal features an editorial on cultural diversity in medicine as well as a reflection written by our current chair of BIDMC, Dr. Mark Gebhardt, to honor his predecessor.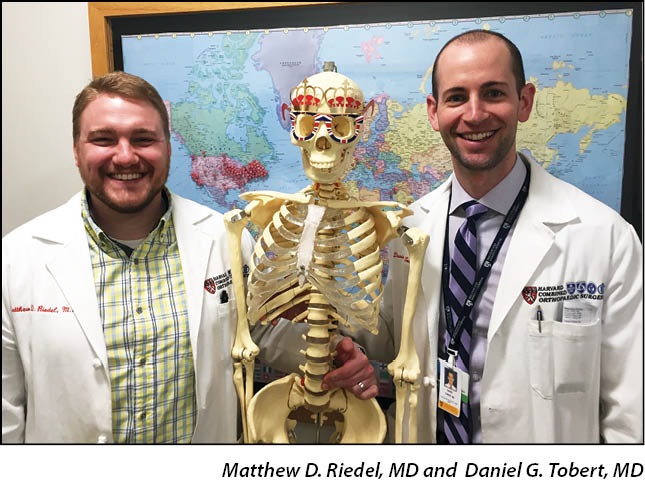 The 2018 OJHMS features a comprehensive array of manuscripts, with topics ranging from sports and upper extremity care to post-traumatic reconstructive guidelines. Subjects focus on every patient group from pediatrics to geriatrics. A special treat of this year's edition is the insightful and detailed review of the history of the Harvard Combined Orthopaedic Residency Program (HCORP) written by our former program director, Dr. James Herndon.
This Journal could not exist without the tireless work of our OJHMS editorial team, which has been broadened this year to include members at institutions across the country. With the recent re-introduction of the print version of OJHMS and re-vamping of our website, Ms. Nicole Wolf continues to be an invaluable resource as our consultant designer and illustrator. We are forever grateful to our staff Managing Editors, Joseph DeAngelis, MD and Jay Zampini, MD, as well as our staff Editor-in-Chief, John Y. Kwon, MD, Chief of Foot & Ankle Surgery at Beth Israel Deaconess Hospital. Dr. Kwon has served not only as a mentor but has become a lifelong friend to each of us. He is extremely dedicated to mentoring and teaching the residents of HCORP, not only through his work with OJHMS, but also clinically and through research. More importantly, he serves as an incredible role model outside of the hospital and we are fortunate to have worked with him throughout residency.
Finally, thank you to the HCORP Executive Committee, faculty, alumni, and co-residents for your support and contributions to our Journal. We sincerely hope that you enjoy this year's edition, it has been our honor to serve as your OJHMS Editors-in-Chief, and we thank you for your encouragement and readership.
Sincerely,
Matthew D. Riedel, MD
Daniel G. Tobert, MD