Dearest Faculty, Alumni and Friends,
It is with great pleasure and pride that we present to you the 2016 edition of the Orthopaedic Journal at Harvard Medical School (OJHMS). OJHMS returned to its printed form last year, and our goal as editors-in-chief this year was to produce another journal matching the high standards set forth by our predecessors last year. This year, each of our manuscripts was once again reviewed via a blinded, peer-reviewed process by multiple reviewers including board-certified specialists, and we are excited to share with you the work presented herein. We are also continuing to work toward our goal of achieving indexing in PubMed and the National Library of Medicine.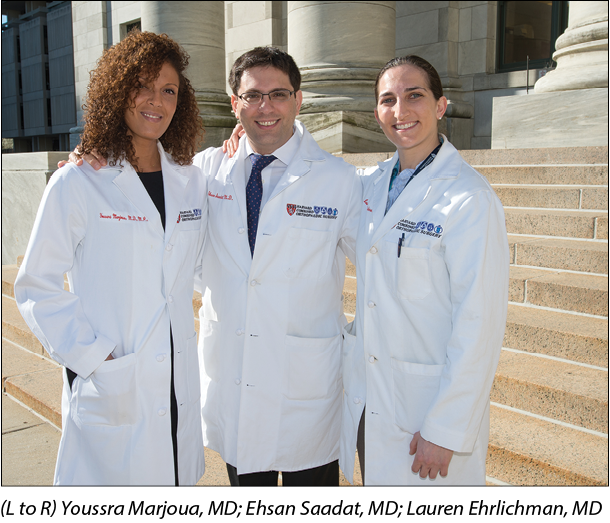 This year's edition offers a broad variety of articles including case reports and original scientific works. Topics range from assessing core muscle size and mortality following the non-operative management of pelvic fractures to an investigation of the impact of youth climate differences on the career longevity and success of major league baseball pitchers. We are particularly proud of the roundtable discussion focusing on the state of orthopaedic residency training featuring Drs. James Herndon, Donald Bae, Christopher DiGiovanni and our Harvard Combined Orthopaedics Residency Program Director Dr. George Dyer. The transcribed version of this discussion has been printed in this year's edition, and the full video can be accessed on our website (http://www.orthojournalhms.org).
This year's OJHMS is dedicated to two surgeons who left an indelible mark on not only the Harvard Combined Orthopaedic Residency Program but also the field of Orthopaedic Surgery as a whole. Dr. Thomas Thornhill and Dr. James Kasser were the esteemed department Chairmen of Orthopaedics at the Brigham and Women's Hospital and Boston Children's Hospital, respectively, and we are proud to honor them by dedicating this year's journal to their remarkable legacies. We asked their successors, Dr. James Kang and Dr. Peter Waters, to comment upon their goals for their respective departments at BWH and BCH moving forward, and you can find their remarks within the pages of this edition as well.
The restoration of the printed edition of OJHMS to its current form would not have been possible without Dr. John Kwon, staff Editor-in-Chief and Chief of Foot & Ankle Surgery at the Beth Israel Deaconess Hospital. Dr. Kwon has worked tirelessly over the past 3 years to transform the possibility of a printed edition of OJHMS into a reality, and without his vision and indefatigable efforts this journal would not be what it is today. Moreover, he has been an incredible mentor to each of us over our past five years of residency. Also instrumental in the making of the journal is Staff Managing Editor Dr. Joseph DeAngelis, who has worked alongside Dr. Kwon to continually elevate the quality of the journal over the past 2 years.
We would be remiss not to thank our incredibly hardworking biomedical illustrator and animator Ms. Nicole Wolf, who put together the journal from the ground up and created the beautiful cover in tribute to Dr. Thornhill and Dr. Kasser. We are also grateful to our faculty, alumni, and industry sponsors for their past and continued support.
We hope this year's OJHMS edition does justice to the rich tradition of Harvard Orthopaedic Surgery. It has been a privilege for us to serve as the OJHMS Editors-in-Chief this year, and we thank you for your ongoing support and readership.
Sincerely,
Lauren K. Ehrlichman, MD
Youssra Marjoua, MD
Ehsan Saadat, MD