Dearest Faculty, Alumni and Friends,
On behalf of the Harvard Orthopaedic Community, it is with the utmost pride that we present to you the 2015 Orthopaedic Journal at Harvard Medical School (OJHMS). Over the last two years, we have transformed OJHMS into the publication we are proud to present to you this year. We have returned to a full-color print edition, redesigned the OJHMS website to feature online donation and article submission capabilities, and embarked on the pathway towards indexing OJHMS in PubMed and the National Library of Medicine. We believe our most significant accomplishment, however, was the design and execution of a blinded, peer review process. The articles within the Journal have been reviewed by board-certified experts in the field who have generously given their time and expertise to create the highest quality scientific publication.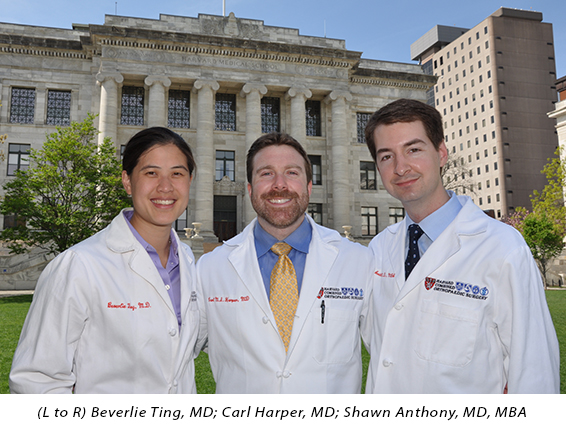 Our entire editorial staff has put forth a tremendous effort -- we would like to thank them for their hard work, ingenuity, and thoughtfulness. We are confident that we are leaving OJHMS in excellent hands. We would like to extend our most sincere gratitude to our staff Editor-in-Chief Dr. John Kwon, whose leadership and dedication drove us into this new chapter. This endeavour would also not have been possible without the organization of our Staff Managing Editor, Dr. Joe DeAngelis. Equally deserving of praise is our biomedical visualization specialist and invaluable colleague Ms. Nicole Wolf who enabled us to realize our vision for the new OJHMS. Finally, we would like to thank our industry sponsors and faculty/alumni donors for their generous support and commitment to academic research in orthopaedic surgery.
We thank you for your readership, submissions, and continued support as we move forward into a new era of the Orthopaedic Journal at Harvard Medical School.
Sincerely,
Shawn Anthony, MD, MBA
Carl Harper, MD
Beverlie Ting, MD